FUNDRAISING RESOURCES

BANKING PROCEEDS
If you have collected money in hand through a range of initiatives the best way to bank this money raised is by depositing it to your online fundraising page. If you are unsure of your fundraising page and how to do this please contact a friendly member of our Kidney Health Australia staff (details below). Kidney Health Australia can also accept cheques (written out to 'Kidney Health Australia') and direct bank deposits, however please contact us to let us know to look out for this money so we can acknowledge it to your efforts.

If you require additional material, such as posters, donation tins or receipt books please also contact us and we will happily send them to you.


DOWNLOAD POSTERS!
To assist you in promoting your walk amoung your supporters and community, download one of our posters and hang it everywhere! The posters will help us spread the word about this year's Big Red Kidney Walk and the important work it supports. We need your help to publicise the event and hopefully you'll find them useful in your fundraising efforts as well!
CLICK THE POSTER TO DOWNLOAD!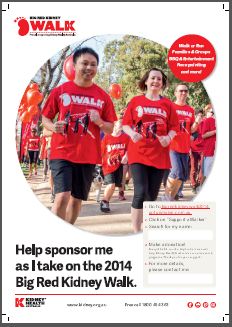 Feel free to email bigredkidneywalk@kidney.org.au or phone 03 9467 4300 if you have any questions.