BIG RED KIDNEY WALK - CHINCHILLA
DATE: 14 September 2014

LOCATION: Queens Park (Opp Pool) Middle St Chinchilla

TIME:
· 8.30 am: Registration
· 9.00 am: Walk Begins

REGISTRATION*
Individual: $10
Children age 12 years and under: Free
Groups of 10: $50
*Please note fees will not be charged upon registration on GoFundraise - participants must pay on the day.
ROUTE:
The walk is a 5k walk around Chinchilla taking in the Charlies Creeks walkways.
POST-WALK ENTERTAINMENT
Following the walk join us for the drawing of our Raffle, get some information on Kidney health issues or general nutrition advice, or have something from the BBQ and a cool drink or hot coffee.

DOGS
Dogs are welcome on the route, but must be on a 2 meter lead and well supervised by their owner (including picking up after them). Kidney Health Australia will not take responsibility for any dogs at the event.
TO REGISTER, CLICK HERE!
HELP US SPREAD THE WORD!
Tell everyone in your community about the challenge you are taking on in support of Kidney Health Australia and invite them to come along by hanging posters all of your city or town. Click on the thumbnail below to download the promotional poster!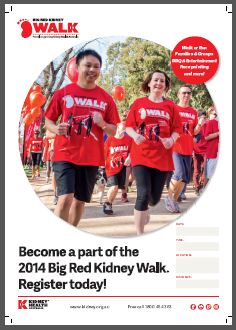 For any questions, please contact: Bronwyn Robinson
Email: bronwyn_robinson@hotmail.com
Phone: 0458 169 543